Configuration
Facebook Pixel Implementation Guide
If you don't have a Facebook Pixel ID yet, navigate to Facebook Advertiser Help Center - Create a pixel in Business Manager and follow the steps on how to create a new Facebook Pixel
After you have created a Facebook Pixel, navigate to Extensions > Extensions in the shop administration, and select Analytics in the dropdown (default).
Click the edit button

to start configuring the Facebook Pixel. Insert your Facebook Pixel ID in the Facebook Pixel ID field.
If you have already created a Product Catalog in Facebook Business Manager, you can insert the product Catalog ID in the Product Catalog ID field. (optional step, only required if you want to run Dynamic Product Ad campaigns)
Click the

button to save the settings.
Creating a Facebook Product Catalog using the Opencart Google Base product feed
Configuration Options
The Facebook Pixel extension features extra configuration options.
Advanced Matching
The Facebook pixel has an advanced matching feature that enables you to send your customer data through the pixel to match more website actions with Facebook users. With this additional data, you can report and optimize your ads for more conversions and build larger re-marketing audiences. You can pass the customer identifiers, such as email, phone number that you collect from your website during the checkout, account sign-in, or registration process as parameters in the pixel. Facebook then uses this information to match pixel events with Facebook users when the Facebook cookie is not present on the browser that fires the pixel.
Facebook Developer Docs
The extension has a switch to enable/disable the Advanced Matching feature. Just click the button next to 'Advanced Matching' to enable/disable the feature. The button text will indicate 'On' when enabled, and 'Off' when disabled. (default is 'On')
Click the

to save the settings.
You can enable/disable each identifier separately under the Advanced Matching Data tab.
Clicking the identifier switch will automatically save the new status for the identifier (PRO version only).
The default settings on initial installation:
'Email', 'First Name', 'Last Name' & 'Phone' are enabled ('On')
'City', 'State', & 'Zip' are disabled ('Off')
Data Security
Any customer data you pass through the Facebook JavaScript pixel is hashed locally on the browser before it goes to the Facebook servers for matching. This hashing process turns your data into short encrypted messages that are difficult to reverse engineer. Facebook typically deletes all matched and unmatched hashes within 48 hours after the matching process ends.
Facebook Developer Docs
---
Values VAT Inclusive PRO version only
The Values VAT Inclusive setting, when enabled, allows to have pixel values including VAT. By default, this setting is disabled ('Off').
---
Manual Only Mode PRO version only
Automatic Configuration
The Facebook pixel will send button click and page metadata (such as data structured according to Opengraph or Schema.org formats) from your website to improve your ads delivery and measurement and automate your pixel setup.
Facebook Developer Docs
The Facebook pixel has a feature that automatically tracks button clicks and page metadata: the
SubscribedButtonClick
and
Microdata
event respectively.
To configure the Facebook Pixel extension to not send this additional information, you can disable this feature by enabling the Manual Only Mode switch. By default, this setting is disabled ('Off' = SubscribedButtonClick and Microdata events will be tracked).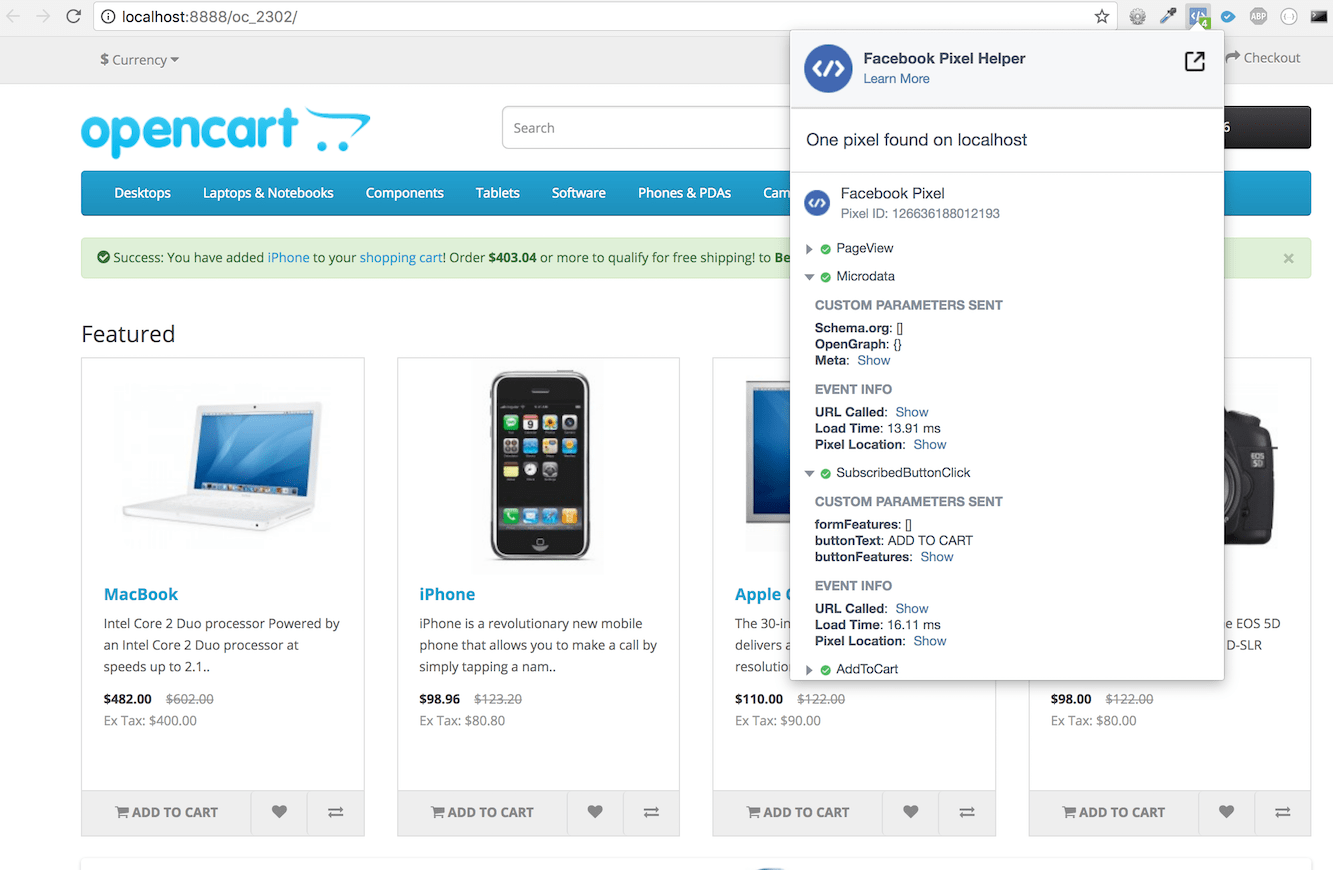 ---
Pixel Events configuration Pro version only
The extension allows to individually enable/disable tracking of Pixel Events. By default, all events are enabled.
To disable a Pixel Event, click the

button on the right of the event name. If the event is disabled, click the

button to re-activate it.
(Changes are saved instantly)
For the Search, AddPaymentInfo, CompleteRegistration and Pageview event, you can specify a custom value in the respective Value field.
When using decimals, only use the point as decimal mark. Don't add a currency symbol.
Allowed notation: 10.50
Invalid notation: 10,50 - will produce errors!
Invalid notation: $10.50 - will produce errors!
After making changes to the event value(s), click the

button to save the settings.
---
Facebook Pixel Helper for Google Chrome browser
For easy troubleshooting it is recommended to use the Facebook Pixel Helper (for Chrome).